Marketing, Startups, Success
Pivvot provides location data and analytic software-as-a-service solutions. Pivvot hired Barnett Strategies, a sales and marketing consulting company, and their partner CIENCE, a B2B lead generation organization, to help them expand into new markets. 
Pivvot's Challenges and Objectives
In 2020, the Oil & Gas (O&G) industry was impacted by both historically low oil prices and the COVID-19 pandemic. Pivvot had made a name for itself in the O&G industry and relied heavily on in person events, networking (including traveling to meet with prospective and existing clients) and existing relationships to fill the sales pipeline. A failing industry, coupled with limited access to traditional marketing channels, pushed Pivvot to both change their marketing approach and break into a new vertical. 
Prior to hiring Barnett Strategies, Pivvot's primary marketing tactics were events and paid ad campaigns to produce web leads, but these tactics were failing to meet sales qualifications and goals. Between June 2019 – December 2019 Pivvot's marketing efforts resulted in an average of 1-2 introductory meetings per month (and those leads were often unqualified). The average sales cycle was 6+ months. 
Barnett Strategies was hired by Pivvot to lead and manage email marketing campaigns (executed by CIENCE, a 3+ year partner of Barnett Strategies) to generate leads and assist Pivvot with their expansion and shift to new verticals. 
Summary of Program with Barnett Strategies / CIENCE
Pivvot hired Barnett Strategies in May of 2020 to develop and manage a lead-gen program, executed by resources at CIENCE. Pivvot had a long history of relationships in the O&G space, but due to economic changes in the industry and the cancellation of trade shows due to the COVID-19 pandemic, they were seeking a trusted partner to generate leads and help them break into new, unknown verticals including Utilities, Engineering Procurement and Construction (EPC) firms, Telecom, and Renewables.  
Barnett Strategies has partnered with CIENCE on roughly a dozen client projects since 2017 to execute on lead gen tactics including email, LinkedIn and calling. CIENCE's process involves a researcher using a defined Ideal Customer Profile to locate companies and contacts, then reaching that audience with a high quality, targeted elevator pitch that breaks through noise in the marketplace and generates positive replies and qualified leads. The CIENCE Sales Development Reps (SDRs) convert replies into booked appointments and hand them off to the client's sales team to convert those leads into partnerships and closed sales. This is all achieved through detailed, close coordination between all three parties. 
Marketing Results Achieved
This program combined the proven techniques from CIENCE with the Barnett Strategies team's experience generating leads and executing on marketing tactics for more than two dozen startup companies. The results of the campaigns were astonishing. The first week alone there were 5 intro meetings booked with some of the top EPC and Utility companies in the United States. The campaigns generated an average of 8 highly qualified intro meetings per month between June 2020 – December 2020 (4x the leads Pivvot was generating prior to working with Barnett Strategies). The average open rate (across all campaigns) of cold emails sent was 25%, with some campaigns as high as 36% open rate (for reference, HubSpot reports the average open rate on a cold email is 20.94%). 
In addition to sending emails, managing replies and booking appointments, the SDR also executed on a LinkedIn campaign to grow the network of Pivvot's lead sales person. The goal was to build awareness on LinkedIn to the same curated list of prospects receiving the emails. This LinkedIn campaign resulted in an average of 162 new connections per month and additional appointments booked.
In parallel to the Barnett / CIENCE email campaigns running June 2020 – December 2020, Pivvot was implementing real-time learnings from the campaigns to update their website and social content. Pivvot hosted webinars using the messaging from the sequences to demonstrate growing knowledge of the renewables sector and software. They ran re-engagement campaigns and sent newsletters that reached the same people previously contacted in the Barnett / CIENCE campaigns. They saw average open rates of 24% (pre-Barnett open rates were 12-14% on marketing emails). Pivvot regularly posted on their company LinkedIn page and re-shared posts on employee pages. Between June 2020 – Dec 2020 they saw an 18% increase in LinkedIn followers and a 19% increase in interactions. 
Pivvot also saw increases across the board on website stats including a 56% increase in web traffic from social media between October 2020 – Jan 2021 when the team made a huge push and focus on the renewables sector. Their website saw a 9.22% increase in users, a 5.5% increase in sessions, a 4.97% increase in page views, and a 16.99% increase in average session duration. 
Sales Results Achieved
As a result of the marketing activities and program with Barnett Strategies / CIENCE, Pivvot drastically diversified their deal pipeline. The year prior to hiring Barnett Strategies (June 2019 – January 2020), Pivvot's Pipeline Revenue was dominated by the O&G industry (69%). With the marketing program developed and executed by Barnett Strategies and CIENCE, by January 2021 Pivvot's Pipeline Revenue had drastically diversified, with O&G now consisting of only 17% and Renewables (26%) and Engineering Firms (23%) making up nearly 50% of the pipeline. Similar pipeline diversification was seen in the count of opportunities in the pipeline. The Pivvot sales cycle was an average of 6+ months, however the leads generated by Barnett / CIENCE closed in 3-4 weeks on average. 
Conclusion
We often find ourselves asking, what makes this program so successful?! In short, we believe it is because of a highly curated audience and messaging, and lots of targeted marketing touches. Sia Malyshenko, Project Manager and Team Lead for Barnett Strategies (and the Pivvot program) at CIENCE, says, "Successful programs are a combination of efforts from both us and the client. The team has been making constant messaging improvements and updates to the ideal customer profile based on learnings from the meetings and replies. We monitored KPIs, A/B tested subject lines, and made adjustments based on the results. Pivvot's messaging was also differentiated based on industry and company size, so we ensured the delivery of targeted, relevant messaging. And of course, Pivvot has a niche offering." 
Stacey McBride, Director of Marketing at Pivvot, led this program from the Pivvot team, and said, "One of the greatest takeaways for Pivvot was learning about a new market, including terminology and keywords for researching the right titles and companies that would be a good fit for our offerings. Pivvot learned the variance in services provided by our target companies – i.e. utility scale, community solar, etc., which came directly from the target audience during meetings. We also learned from our audience about the data sources critical to making our software compelling."
So why would someone work with Barnett Strategies when they can go directly to CIENCE? Chris Barnett, Founder of Barnett Strategies, says, "Companies can go directly to CIENCE, we will gladly introduce you to our very skilled friends there. However, a majority of our clients prefer to work with CIENCE through Barnett Strategies' management because our clients are founders at early-stage startup companies with limited time. And as we've learned here, the most successful programs, at least from our experience, involve a high level of involvement on the client's side. My team provides that involvement and program management, and pulls in the client only when necessary." 
McBride says, "Prior to hiring Barnett Strategies we were considering hiring a full time regular employee to increase marketing efforts. After hiring Barnett Strategies (with the help of CIENCE), we no longer needed to hire someone. This program exceeded what a full time regular person could have done, and takes less of my time to manage." With Barnett Strategies and CIENCE, Pivvot had the power of roughly 2.5 full time employees – a full time researcher from CIENCE, a full time SDR from CIENCE, and program management from Barnett Strategies.
About Barnett Strategies, Pivvot and CIENCE
Barnett Strategies works with early-stage software and SaaS companies to accelerate growth results and help entrepreneurs go big and exit big. After leading marketing and sales at three innovative companies, creating many millions of dollars in revenue and two $100M+ exits, Chris Barnett founded Barnett Strategies to apply his experience to the challenges and goals of software and SaaS startups.
Pivvot provides location data and analytic software-as-a-service solutions. Pivvot adds situational context to asset information—empowering organizations in energy and transportation to navigate regulatory compliance and reduce operational risk. 
CIENCE offers outsourced Lead Generation built around specialized staffing to grow businesses in every B2B sector. We help our client build and grow their top-of-funnel using People-as-a-Service, which combines human intelligence, machine learning, expert training and industry experience for superior research, appointment setting, and sales assistance.
/
by Amanda Defelice
https://www.barnettstrategies.com/wp-content/uploads/2017/10/BarnettStrategies_logo-1.png
0
0
Amanda Defelice
https://www.barnettstrategies.com/wp-content/uploads/2017/10/BarnettStrategies_logo-1.png
Amanda Defelice
2021-02-11 21:12:10
2021-02-15 19:24:06
Case Study: Using Lead Gen to Gain Market Insights and Expand to New Verticals
Marketing
How to convert a lead into a sale: knowing your audience and asking for a commitment that makes sense
Chris: Today is now and I need this meeting next week and what do I do. There's a couple of simple little things that are gonna sound like they are obvious table stakes that people don't really do. I need to meet w/ them face to face, someone who doesn't know me. Believe it or not, people do not do their homework 95% of the time. They're reaching out to somebody in the pharmaceutical business with a message about agriculture. They're worried about just getting as many messages out as they can, getting out as fast as they can and they don't do their homework. But if you have a message that says based on my research on your company and your role I believe that you would be interested in the following topic and what I have that's unique about that topic and then you say something that is both unique and believable because it's hard to have both. If I'm trying to sell you a phone that magnetically levitates above the desk well that's unique but it's not believable right. 
The other thing is we talk about the commitment level of your call to action. Do you and your family want to go to the Florida Keys with me for the weekend. Well no, do you want to have dinner on a Friday. I always tell people if you're proposing a 59 minute in person/on zoom sales call to somebody, you're asking for a huge commitment from somebody that's never met you. You have to ask for a small commitment. We have a 1 minute video on our website. I think you might want to look at this. We have an eBook, a PDF just come to our website and look at it. Would you like a free demo, a free trial, would you like to learn more? Instead of saying would you like to stay for dessert on a first date, if you start talking about how many kids we should have that's just crazy! You shouldn't do that! Right!? What I always want to see sales professionals doing is having calls to action on a 0-10 scale in terms of commitment and the commitment you are asking for has to correlate to the relationship that you have. And if the relationship is a 1 don't ask for a 10 level commitment action item.
/
by Chris Barnett
https://www.barnettstrategies.com/wp-content/uploads/2017/10/BarnettStrategies_logo-1.png
0
0
Chris Barnett
https://www.barnettstrategies.com/wp-content/uploads/2017/10/BarnettStrategies_logo-1.png
Chris Barnett
2020-09-03 18:57:50
2021-01-21 00:13:34
FiredUp KC <> Barnett Strategies Highlight Reel
Marketing, Sales
New Workshop format introduced by Barnett Strategies gives new companies, new products and new initiatives access to earlier and faster growth results.
We're calling it the Growth Results Workshop 🎉💪🏼
Three years into enabling bigger faster growth for entrepreneurs, Barnett Strategies has expanded our program format. The target audience for the Growth Results Workshop are seed round and early or small A Round firms. They want professional strategy and execution for marketing and sales but they don't want to commit just yet to building a larger team. They want market validation and enabling or lighthouse customers. Or more of that…
The workshop format, for now, is executed via Zoom, though we hope to transition to in-person sessions when circumstances allow.
We're doing these once or twice per month. Typically the sessions are held on consecutive Fridays for 90 minutes each. We've built a step by step process with some light homework including a five-minute survey, research and problem solving by the Barnett team, productive meeting agendas and very actionable deliverables.
The first workshop was held in July and was a big success. So now we're rolling out. We'll tackle the top 3-5 challenges in the marketing and sales domain that a company is facing right now. We'll iterate off the Success Checklist to generate the right course of action.
Ping us for details or to book a slot, the August sessions are already sold out 😃
/
by Chris Barnett
https://www.barnettstrategies.com/wp-content/uploads/2017/10/BarnettStrategies_logo-1.png
0
0
Chris Barnett
https://www.barnettstrategies.com/wp-content/uploads/2017/10/BarnettStrategies_logo-1.png
Chris Barnett
2020-07-14 19:11:39
2020-07-14 19:53:07
New! Growth Strategies Workshop!
Marketing, Startups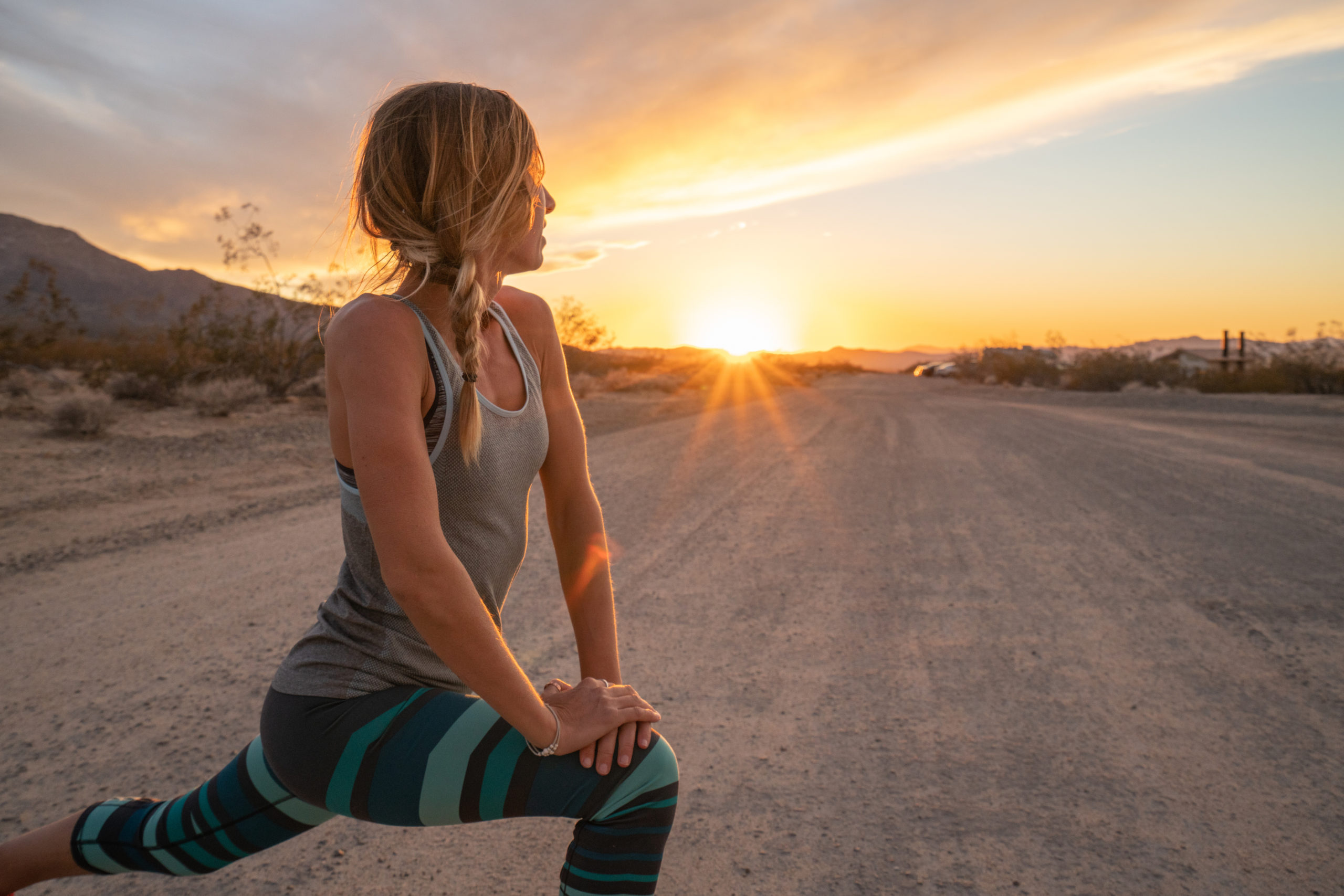 Transcript:
Hey everybody Chris Barnett here from Barnett Strategies, as some of you may know our mission is to help founders and entrepreneurs grow their business through better marketing and sales strategies and execution. Today we're going to talk about a topic I believe in, and that is the idea and the process and the task of beginning with the end in mind. 
Some of you may be familiar with the Stephen Covey book 7 Habits, personally I'm not a huge believer in self-help business books or self-help books, but this one is really a winner. The part of it that I found to be the most useful to apply in business is beginning with the end in mind. Which means that everything is created twice: first in your visualization, first in your mind, first on your plans and then in the real world in your execution. It's one of these things that is easy to say and maybe sounds obvious but that most people don't do. So if you have a specific commitment to have this top of mind and to do this all the time, it really makes a huge difference in my experience. 
If we're understanding the end result whether it's the day, a task, a project and you have a clear vision whether you lay it out on a whiteboard, on a piece of paper, in a PowerPoint or you have it visualized in your visual imagination that really helps you to create a plan. 
With startups and working with founders and entrepreneurs, I always talk about five dimensions of goals. It's not just about number two the revenue goal and the cash flow goal, everybody has that but there are four other dimensions that can't be neglected: market acceptance, commercial deployments, end-user adoption, getting monthly active users so you don't have shelfware and increasing your shareholder value. Whether it's for the exit, for the next round or just to be making progress and have your shareholders and board members be happy. These are all obviously five good things that everybody would want, support and be excited about but my point is that all five of these need to be articulated on a quarter by quarter basis in six quarter plan with a timeline attached and that needs to tie out to the strategies and the project plan, the Gantt chart that you're building to get your company going to where you specifically defined it as your destination.
What's challenging about setting goals for those five things is everything you do unfortunately has trade-offs. One of my mottos is I hate trade-offs and yet they exist and you have to cope with it. So we created this matrix of goal trade-offs as you can see that starts to illustrate the fact that everything you do from a strategy and tactical perspective in your business is gonna have trade-offs. For example, take this one on the bottom first customer discount, you've got a product rolling out, you're trying to get your first customer or your first big marquee customer on board and the thought is let's give a discount to get that customer on board, use their logo as a flagship to attract more business. Well, that's gonna be great for market acceptance, it's gonna be great for getting a commercial deployment with that customer, but it's not really gonna have any impact on end-user adoption. End users are gonna like your product or not, independent of whether you give the corporate buyer a discount and it's obviously going to hurt cash flow. You can see the logic here that things like offering a free trial is gonna help with market acceptance, its gonna help with commercial deployments, but in red it's gonna hurt you in terms of revenue and cash flow. So what you have to do is look at your major strategies and tactics and how they're gonna impact the five dimensions of goals. Then it's just some calculus to figure out what's the optimal solution that uses the amount of resources you have and doesn't require more, gets you to those goals on the schedule that you have and does it pressure test successfully when you look at it and say does everything add up the way we need it to add up. 
That's my philosophy on beginning with the end in mind if you want to ping me I would be happy to work with you on the details thanks very much and have a great day. chris (at) barnettstrategies.com
/
by Chris Barnett
https://www.barnettstrategies.com/wp-content/uploads/2017/10/BarnettStrategies_logo-1.png
0
0
Chris Barnett
https://www.barnettstrategies.com/wp-content/uploads/2017/10/BarnettStrategies_logo-1.png
Chris Barnett
2020-07-07 18:51:11
2020-08-05 01:13:08
Begin with the End in Mind Tech Startup Edition
Marketing, Startups
Prior to the founding of Barnett Strategies LLC, I spent about 15 years leading marketing and sales teams in high growth, high tech companies.
As I finished my post acquisition wrap-up at EyeVerify, which was acquired in Sept 2016 by Alipay (Ant Financial / Alibaba Group), I realized that it might be useful to pause and make a full check list of the priority topics that I had been managing and working on. I was hoping to take a short sabbatical and didn't want to lose track of all the strategies and tactics that I would want to bring with me to my next role.
So, that was a good idea! When I started consulting for entrepreneurs in several technology domains, I immediately faced a series of typically concise but important questions. These questions struck the heart of the marketing and sales problems and goals that founders were looking at:
"Q: How do we increase sales quickly without a big spending commitment upfront?
 Q: How can we dramatically boost awareness of our brand/company/product  this year?
 Q: Which of the dozens of sales/marketing tactics we read about actually work?
 Q: How do we generate many more qualified leads asap, without adding headcount?"
Perfect! Let's do all of that right now!!
I went straight to my archive and pulled out my marketing and sales "savvy-veteran" punch list, expecting it to address all these questions for my clients, just as it had for me as an executive.
Wrong!!
As I started to send this checklist out to a few early clients and prospective clients, it was unfortunately received with some alarm and dismay on their side:
"This is nuts, we can't afford to do all of this, we're a start-up!
Where's the proprietary Barnett magic?! I've already heard of everything on this list!
This is intimidating, we'll struggle to review the list itself, let alone actually execute it!"
So that was a bad idea! What did I learn? You can't just email out the answers (duh!)
The checklist is admittedly a collection of garden variety tactics. Metaphor: want to get into great physical shape? Well, just go to the gym every day, eat healthy, quit smoking, quit drinking – and you're set. Meaning that results are derived from the doing of the list items and not from the making of the list itself.
And that's how the Barnett Strategies team uses the Success Checklist as an agenda tool to add value and drive results for our clients. Everything on this list is a tactic that we've done successfully multiple times with multiple companies across multiple domains. So, we can advise and execute on these issues for our clients today.
And of course, the strongest magic lies in choosing effectively from the list for a particular client's situation and goals. Which tactics from the list are needed this quarter versus next year? How can we execute on a key tactic with some guerilla-style, low-cost startup-friendly actions? It's easy to spend/waste too much money on (for example) a huge website overhaul, a big trade show presence, or a major PR campaign. But which steps are needed at what reasonable investment levels that get a client to the next key milestone? That is how we really add value and bring results. And all of this is with a strong focus on execution and not just PowerPoint advice.
The Barnett Strategies Success Checklist covers everything from lead gen to identifying target markets on the marketing side, to documenting revenue goals and developing a go-to-market strategy on the sales side. Click here to download a copy of the checklist, or ping me if you want to chat about how Barnett Strategies utilizes this list to help drive results.
/
by Chris Barnett
https://www.barnettstrategies.com/wp-content/uploads/2017/10/BarnettStrategies_logo-1.png
0
0
Chris Barnett
https://www.barnettstrategies.com/wp-content/uploads/2017/10/BarnettStrategies_logo-1.png
Chris Barnett
2020-06-25 20:09:47
2020-07-14 18:58:13
The Barnett "Success Checklist" for Tech Startups
Success
Once a year, I write a post that is intended to be more inspirational and thought-provoking than our typical Barnett Strategies, enterprise sales and marketing blogs. So here it is for 2020
This is a thought experiment that I'd love to see readers actually try. Most especially, please add your comments below with your feedback. Share the good, bad or ugly – however you see it.
Thought experiment next: pause all your multi-tasking for just a few minutes as you read this.
Consider the possibility of a Magical To-do List. Everyone has to-do lists in their head or on paper or digitally. And these vary widely in format and effectiveness. But, what if you had a special flavor of to-do list that had the following magical property. Anything you add to this list will happen, auto-magically and guaranteed (unless you don't even try at all).
So, reflect for a moment on the implications. Throw out the usual practical and pragmatic concerns about time, budget, capacity, resources, feasibility, the laws of physics, cooperation from others and the myriad other real and anticipated blockers that we all use to filter our goal-setting and to-do list making.
If you write it down on your Magical To-do List… It. Will. Happen. No complexities, it just happens.
Now – pause your reading here for a minute and write down for yourself – without filtering – what are the To-do's that occur to you as you think about this magical list.
Next, now that you wrote down your thoughts for your magical to-do list, or at least thought about it for a second. Consider these issues:
How much does this list differ from your ordinary, real-world goals and to-do lists?
Why these differences?
Did you write down anything that you truly want to do, but have not been pursuing?
For list items that are blatantly impossible, is there still some learning and awareness there, with regard to which topics you care most about. Could there be only slightly watered-down versions of that impossible goal, that you really should be going after?
So again, I'd love to see your thoughts and feedback in the comments section below. How did this play out for you? Also, if you're up for it, please share your own Magical To-do List as well.
My list is below, but don't read that until you've written out yours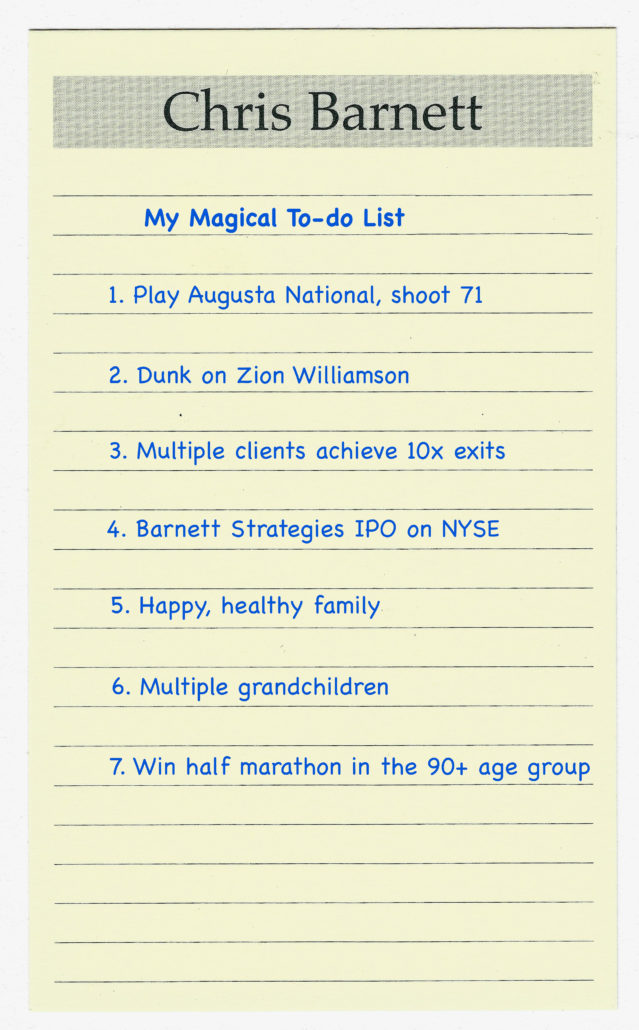 /
by Chris Barnett
https://www.barnettstrategies.com/wp-content/uploads/2017/10/BarnettStrategies_logo-1.png
0
0
Chris Barnett
https://www.barnettstrategies.com/wp-content/uploads/2017/10/BarnettStrategies_logo-1.png
Chris Barnett
2020-05-21 18:05:32
2020-07-14 18:58:45
The Magical To-Do List Thought Experiment
Marketing, Sales
As we near #mwc2020, we're starting a short series called "GREAT MOMENTS in MWC Barcelona History."
Our first great moment is early 2014, when EyeVerify partnered with AirWatch to announce that Eyeprint ID was integrated into the AirWatch mobile device management tech stack.
This moment was great because we had an amazing booth location at the center of the busiest intersection in the most popular hall, with Qualcomm, Intel and Cisco booths adjacent to our space on the front corner of the AirWatch booth. So we had an incredible tally of business cards and leads.
To put that year 2014 into perspective:
In 2014, 12 Years a Slave directed by Steve McQueen won Best Picture.  Happy by Pharrell Williams and Dark Horse by Katy Perry were the most popular songs. The biggest tech and IT disaster of the year was the meltdown launch of healthcare.gov. Apple had recently released the iPhone 5s and Samsung announced the launch of its Galaxy S5 and wearable Galaxy Gear.
/
by Chris Barnett
https://www.barnettstrategies.com/wp-content/uploads/2017/10/BarnettStrategies_logo-1.png
0
0
Chris Barnett
https://www.barnettstrategies.com/wp-content/uploads/2017/10/BarnettStrategies_logo-1.png
Chris Barnett
2020-02-06 18:42:48
2020-07-14 18:59:06
GREAT MOMENTS in #MWC Barcelona History
Sales
For more than fifteen years as a salesperson and sales executive in the software / high tech industry, I worked on every aspect of the lead gen and sales cycle. Hundreds of deals, tens of millions of dollars in revenue. In my experience, the number one performance driver was always effectively generating qualified leads.
Sure, there are a lot of well-known ways to generate qualified leads, such as:
Networking, warm intros and referrals
Attending conferences and industry events
Inbound content marketing and PR
However, for most start-ups, even those that have the above techniques working effectively, these methods alone are just not enough. This is especially true when the goals are to grow a tech start-up's revenue to $5-10M+ and eventually $25-50M+ over several years.
Why not enough? These techniques can get you some fantastic initial deals for $1-3M of revenue and compelling lighthouse customers. But these time-tested tactics just don't extend far and wide enough outside your existing network. They don't enable at-bats with 80+% of the entire addressable market for your prospects.
For example, one of our clients was kicking off a new campaign to target companies in the auto space and had great initial traction with three prospects. Then, we complied a comprehensive and complete list of targets and did an outbound campaign. They got another TEN prospects in their pipeline within the first 30 days.
Another client initially had a list of prospects in the electronics industry they had talked to via introductions, people they knew, and inbound inquiries. This list seemed encouraging, but was not comprehensive and complete. Again, we sat down and identified everyone in their target universe. Then we contacted everyone on that list and talked to people who replied. This process took their salesperson from doing a few intro calls each week, to doing a few intro calls each day, and filling their pipeline with qualified leads.
It's critical for early stage founders to move beyond the short list of early adopters, usual suspects and comfortable networking-based deals that feel encouraging. A list of all potential targets must be built and outreach attempts to that entire group is a mandatory step for big success. And if you're not building awareness among most of your target market, competitors will swoop in and hijack most of your market traction.
So then, how can cold outreach be truly cost and time effective?
Hardly anyone goes for the boiler room approach of cold calling any more. The few companies still using this method rarely get a buyer that answers their phone, resulting in voicemails that never get heard.
LinkedIn is great, but not enough. Unless you're only selling to a very small audience of 5-10 companies, LinkedIn based networking and sales is not scalable for the level of growth the venture capital investors are expecting. You're just bouncing around the people you know and those a level or two away. And what about the prospects you've not even identified yet?
For large tech companies, there's several expensive resources available. But what about start-ups? In my experience one great option could be Discover.org, which used to be known as Rain King. https://discoverorg.com/product/ They don't list pricing on their website (any more) but when I last used them the bill was ~ $50,000 for a very high quality data set that covered several large countries. For most startups, that is a huge nut to cover, especially since that ONLY gets you the data. The researcher to understand and query the data set is then a people cost. There is also D&B data available, but personally I've not had good experiences with that. And I get weekly emails from random companies offering lists. Never had a good experience when I tried these.
At Barnett Strategies we have partnered with a San Diego-based firm @CIENCECOM to bring this capability to our clients. We work with CIENCE to provide access to a suite of several enterprise contact info databases, resulting in the ability to easily get access to data like this: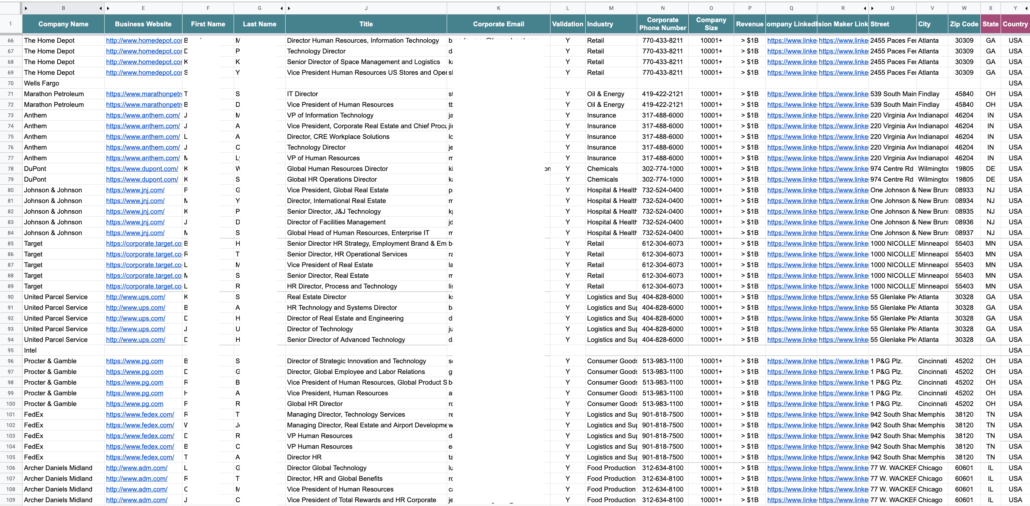 In the past two years at Barnett Strategies we've had some frankly stunning successes with the following approach.
First, we work with our client to write an Ideal Customer Profile for a client's offering, the profile of our target audience based on industry, geography and the functions titles of the right execs (among many other variables). Next we quickly have in hand expertly done database research on the Companies and Contacts that need to be targeted including verified emails and phone numbers. From there we build a messaging questionnaire based on our client's go to market strategy and tactics. Using this questionnaire, the writing team creates a sequence of four to five emails plus a LinkedIn touch. This professional writing creates urgency with a call to action relevant to the prospect, while "keeping it classy" – so not spammy and not cheesy. The open rates (above 50%) and positive response rates (6-10%) on these messages are often way higher than marketing industry norms.
If you would like to see a sample of the results or a two page case study please send me an email to chris (at) barnettstrategies.com.
Relevance and value add – that is what the members of a target audience are expecting. If a cold email is about a topic the recipient does not care about (like Viagra) or reflects a lack of research and targeting (like trying to sell accounting services to the engineering team) then recipients are bored or annoyed. But when your audience really cares about what is happening with "Fu" – and you bring them something new and unique in that world of "Fu" then you're going to get a good result. We often get replies from campaign recipients that start with "Thank you for reaching out…" and nothing warms my heart more than that.
/
by Chris Barnett
https://www.barnettstrategies.com/wp-content/uploads/2017/10/BarnettStrategies_logo-1.png
0
0
Chris Barnett
https://www.barnettstrategies.com/wp-content/uploads/2017/10/BarnettStrategies_logo-1.png
Chris Barnett
2019-12-16 15:06:25
2020-07-14 18:59:25
"Get Me More Qualified Sales Leads - ASAP!!!" Said by every entrepreneur, every sales leader and every sales person. Every week.
Sales, Success, Technology, White Paper
AI Language Processing Innovator Giant Otter LLC based in Cambridge MA calls on Barnett Strategies to turn ground SaaS chatbot code into customer cash
With an innovative, AI-powered chatbot platform, Giant Otter offered an example of revolutionary technology. But while their product may have broken ground, breaking through and into the market was another issue.
Two years ago, Giant Otter reached out to Barnett Strategies and its founder and principal, Chris Barnett, thanks to a recommendation from longtime Giant Otter advisor, Vlingo co-founder John Nguyen (Chris led Vlingo's sales and marketing team).
"Most specialized sales and marketing folks can't deal with the ambiguity of the product/market-fit stage," says Giant Otter co-founder and business development head, Dan Tomaschko. "John knew that Chris had the right experience, and would tailor his approach and advice to the stage of our company."
Digging in to the Challenge
After the connection was made, Chris saw Giant Otter's potential alongside its challenges.
"Giant Otter had a strong technology baseline, thanks to [co-founder and CEO Jeff Orkin's] research at the Massachusetts Institute of Technology and several years of commercial development," says Chris. "But they had no commercial deals yet and prospect engagement was based only on their networks and inbound inquiries."
A look at Giant Otter's web analytics shined a light on some basic issues. "Chris showed us how far behind we were in generating interest in our product, just based on website traffic," Dan says. "Those metrics were eye-opening."
"The chatbot space was — and is — extremely noisy and overcrowded," says Chris. "Many competitors had similar claims and language, with a lot of vaporware and overstated promises confusing customers."
So Much Noise…
To break through the noise, Giant Otter would need to articulate clear and compelling features and benefits. With Barnett Strategies' guidance, Giant Otter had a story to share about a product that wasn't just viable but vital.
"Chris and his team helped us get into the heads of busy, over-pitched buyers," says Dan. "We stepped up our aggressiveness and our helpfulness several notches to stay on buyers' radars."
Key to Barnett Strategies' efforts was increasing awareness and interest in the right places. "We identified the highest priority target markets from among a very large potential set of market sectors," Chris says. "Then we worked to understand the high-value entry points: Marketing? Customer care? IT? Executives? Innovation departments?"
Once the right people received a recalibrated message, results came quickly. "In 2018 we generated a third of our new clients from the lead-gen program they helped us to stand up in Q2 of that year," says Dan. "Chris and his team then helped us to negotiate our top three biggest deals."
Chris remembers one important milestone: "When Jeff and Dan were double booked with pitches to high-value customers from top name brands, we knew the strategy and execution were working."
The Results are In
An active funding round followed, culminating in the introduction of an optimal business partner for Giant Otter: conversational marketing platform Drift.
"A potential investor introduced us to Drift CTO Elias Torres," says Dan. "We quickly realized that there was a strong fit between our products, our vision for the future, and our common ambitions. We realized we could go further together, so we turned down investors interested in the round and joined Drift instead."
Paving the way to Giant Otter's successful exit were the efforts of the Barnett Strategies team. "Chris helped us with all of our go-to-market efforts," Dan recalls. "From positioning and articulating a value proposition, to targeting prospects for outreach, to generating leads via outreach and content marketing, to tracking prospects and nudging them down the funnel, to closing and documenting the exit."
Now that Giant Otter is part of a large company with an in-house marketing and sales team, its working relationship with Barnett Strategies has wrapped up. "But on a personal level," says Chris, "we've kept in touch and continued to collaborate — Dan made an intro to Spansive, which has become a major Barnett Strategies client."
"We are happy boosters for Barnett Strategies," says Dan.
/
by Chris Barnett
https://www.barnettstrategies.com/wp-content/uploads/2017/10/BarnettStrategies_logo-1.png
0
0
Chris Barnett
https://www.barnettstrategies.com/wp-content/uploads/2017/10/BarnettStrategies_logo-1.png
Chris Barnett
2019-09-19 14:30:51
2020-07-14 18:59:55
Case Study - Market Penetration Results Lead to Attractive Exit
Marketing
Technology and software-as-a-service (SaaS) companies often come to us when they haven't fully realized growth on their own. We survey the situation with a model that lays out their marketing spend versus the size of revenue results they've seen. We call this matrixed approach the Barnett Growth Quadrants:
Big budget, big results: Pay (Big) To WinWhat it visualizes is four types of management teams — a couple to aspire to, and two to avoid.
Imagine you're the CEO of Apple. AT&T. Nike. You blanket the globe with your unmistakable brand and omnipresent message, thanks to a marketing division bursting with talent and a budget that bulges with zeros (the five largest marketing spends totaled over $46 billion in 2017, per Ad Age). This is the goal, but let's not dwell on it. Pin a picture of Phil Knight to your vision board and keep reading.
Big budget, low results: Expensive Failure
Another scenario: You throw money at your problem, which only compounds (as does the venture debt interest). Channels are sucking cash but not spitting out results, spreading efforts and patience thin. Your ego, fear, or false hopes squelch a smarter, sounder approach.
It's a nightmare that's too real — see Beyond the Rack and Chef'd for examples of multi-million dollar mistakes. But even start-ups with a total capital of $1 million can run into $30,000-a-month PR retainers, sales staff on payroll with no product, and misguided marketing purchases (maybe scale back that lavish trade show booth).
Small budget, small results: Thrifty Failure
Most start-ups start small, but staying that way indicates a lack of strategy. Maybe your entire digital department a nephew with Squarespace skills. Or you rely on gig-economy tactics for your public relations or sales staff. Perhaps the lists you buy get you sucked into spam filters 90% of the time. It's all technically something — but it's not savvy.
Perhaps you managed to taste success through these efforts, but don't have the acumen or hours in the day to go further. Your good ideas need amplification. Your positioning needs to adjust (or exist). There's only one place to go: our final quadrant.
Small budget, big results: The Best of Both
Welcome to the sweet spot — a place not many start-ups occupy. Here, your goals clarify and your budget clicks. You get the results you want with a burn rate that works for you. You spend time crossing off your success checklist, not revising it.
We love guiding entrepreneurs and venture capital investors into this optimized quadrant. Here, we make a difference for prudent yet hungry companies who can't afford to go into debt or stay small. If that sounds like you, and you're ready, let's talk. » chris@barnettstrategies.com
/
by Chris Barnett
https://www.barnettstrategies.com/wp-content/uploads/2017/10/BarnettStrategies_logo-1.png
0
0
Chris Barnett
https://www.barnettstrategies.com/wp-content/uploads/2017/10/BarnettStrategies_logo-1.png
Chris Barnett
2019-09-04 21:14:49
2020-06-29 20:00:52
Seeing Results: The Barnett Growth Quadrants
https://www.barnettstrategies.com/wp-content/uploads/2017/10/BarnettStrategies_logo-1.png
0
0
Chris Barnett
https://www.barnettstrategies.com/wp-content/uploads/2017/10/BarnettStrategies_logo-1.png
Chris Barnett
2019-02-13 12:00:29
2019-02-13 21:45:31
Barnett Strategies talks China at Silicon Dragon Valley 2019
https://www.barnettstrategies.com/wp-content/uploads/2017/10/BarnettStrategies_logo-1.png
0
0
Chris Barnett
https://www.barnettstrategies.com/wp-content/uploads/2017/10/BarnettStrategies_logo-1.png
Chris Barnett
2017-10-18 00:39:15
2018-10-26 22:15:08
Barnett's Ten Laws of Sales